Recap of The Pioneer Demo Day
It felt like a mini YC demo day, with potential to be something bigger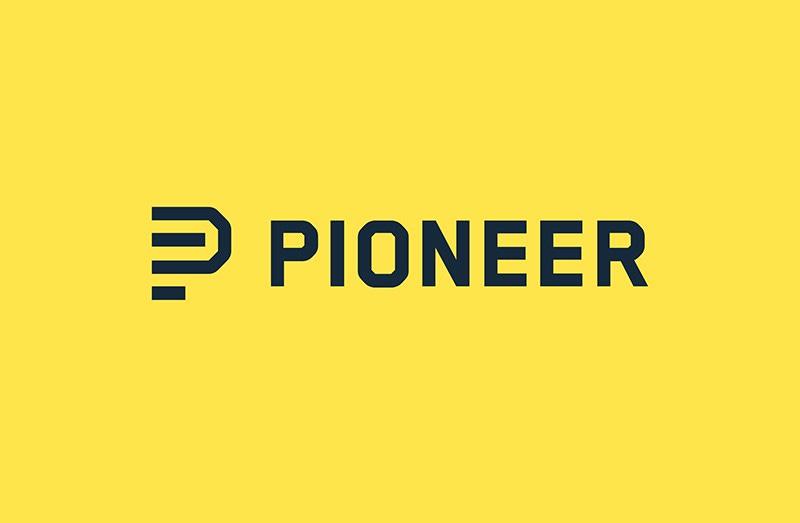 Pioneer is one of the most interesting startups on the internet right now. It's has a very similar vibe to Y Combinator, but before Y Combinator was cool/proven. Also, it's awesome to see Daniel Gross, the founder, at work. Pioneer describes themselves as a remote accelerator.
According to their site "We fund projects and startups built by ambitious outsiders around the world." Pioneer does a great job of bringing together the smartest minds in the world, from all over the world. They recently had a demo day highlighting several of their recent Pioneers, and I watched the presentations. In this post, I will break down the startups I'm most interested in and have the brightest future. But first, what was a virtual demo day like?
---
What was Demo Day Like?
As this was a demo day, the Pioneers got to pitch to a flurry of experts in their industry, as well as pitch to a live room of hundreds watching from home. This is what the environment looked like as a attendee.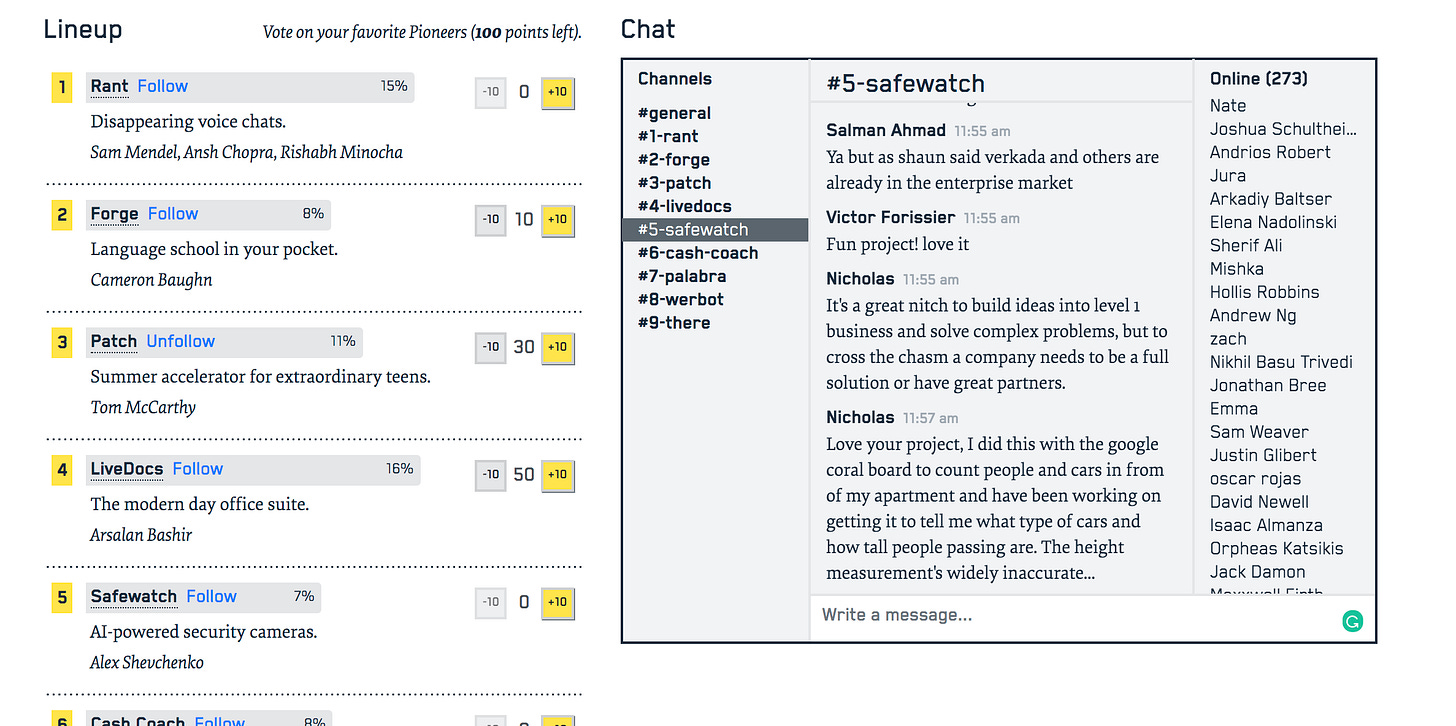 They built features to allow the attendees to vote on their favorite startup, and I do have to say, their platform was very engaging. I was active in the chat and loved the voting features. The software is nothing without the experts that people pitch to. Daniel and co got many really impressive founders to come and chat with the founders pitching.
The Experts
Des Traynor - Cofounder of Intercom

Austen Allred - Cofounder/CEO of Lambda School

Shaun Maguire - Partner at Sequoia

My Take on The Startups
My favorite pitch - Patch
Patch is a 6 week long summer accelerator for 16 – 20 year olds.  They bring together curious young people who want to work on projects and learn from the best.  The programme is philanthropically funded and open to future entrepreneurs, scientists, engineers, designers and technologists of all stripes.
What I like about it
I pretty much think any smart founder building in the people acceleration space is in the right market. I also find a lot of similarities between Patch and Forward Thinking Founders. He needs to create filters to find smart young people, and I need to create processes to find smart founders. Some of the filters who uses are really smart, like looking at local science fairs in Ireland. In some ways, he kinda competes with Pioneer in a way. But, the world will benefit from programs that try to find the world's hidden geniuses.
Risk area questions
Not sure how it makes money

What makes it different from the next dozen that look just like it? Will first mover advantage be enough to take the market?

How long will it take to know if this is working? Initial revenue is good, but it will only sustain long term if people who go through the program are successful in the world. What is the time that it will take to realize this?
Favorite Founder -
Cameron Baughn
Cameron is the founder of Forge. Forge is the only language learning application designed to take you from complete beginner to seasoned pro.
Why I like him
To start, I actually don't know if I like his startup, Forge. When asked about how he is different from Dulingo, he didn't really give a quality response. Ultimately, he think Duolingo is great at getting people to USE it but, not actually get value from it. I don't buy it. They wouldn't have gotten so big if their product didn't work. With that said, I get the vibe from Cameron that it doesn't matter what the current market looks like, he will just penetrate it. I couldn't get over his knack for communicating very clearly, yet aggressively, against Duolingo. I can't exactly put my finger on it, but it just appears that he is on a mission, and he knack of being a good founder will carry him through the competitive landscape looks like.
Meet The Rest of The Startups Who Pitched
Safewatch - For only $5/month per camera you can set up alerts for any kind of object, and get 14 days of footage backup.
Palabra - A simple workspace for your automated emails
LiveDocs - Break away from archaic idioms of the 20th century. Put your documents to work with powerful integrations, automations, and seamless UX. 
Cash Coach - Welcome to our gamified universe where people compete to save as much as they can from their real-life income to level-up their in-game avatar. 
Rant - We believe that texting was never supposed to be the way we communicate with people we care about. We have been working to create the best, most convenient way to communicate with people you care about, all through voice!
Werbot - Werbot solves almost all the problems of server access storage, sharing and auditing, server security monitoring, and performing tasks.
There - Hold a key and talk to a teammate anytime, while respecting their focus.
Want to join Pioneer and be a part of a community of makers, builders, and founders? Maybe you'll get a chance to pitch experts just like these startups got the chance to.