Discover more from Words, By Mat Sherman
Writing about my observations on startups, access, and markets. The posts will be inconsistent, but you'll always get my best.
Over 6,000 subscribers
How Not To Spend $100,000
How we got into an accelerator and burned the money in less than a year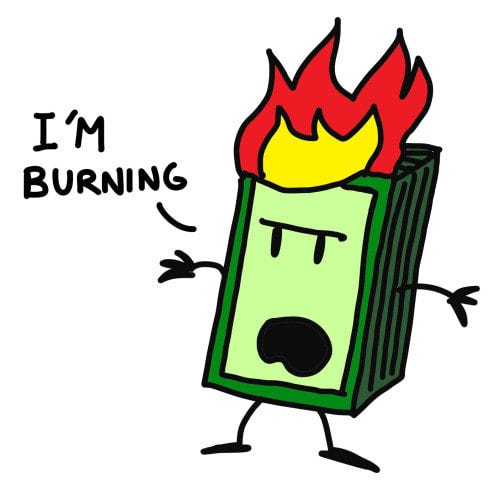 This post was originally published as a paid subscriber only post two months ago. Want to get all my best content before everyone else and support me as a subcreator? Subscribe for $10/mo.
---
I didn't want to write this post. You know, I wish that the post was actually titled "How to turn $100,000 into $5,000,000. But, sometimes life doesn't work out that way. In this post, I am going to go very tactical into the ways Jeremy and I spent the money we got from Jason Calacanis. The effort here is to show future founders how fast the money goes and where the places it can go in the process.
Before we got into the accelerator, I got it into my mind that we needed to hire sales help. We were doing so well, and it would be better to pour fuel on the fire by hiring sometime even better than me to do sales. So, we put out a job listing and got some interest. We had people so much more experienced than me reaching out. My mouth was watering at the money that we could make with these pros in place.
I was thinking that hiring a salesperson will help us grow faster, period. My mistake was that I just needed to keep doing what I was doing.
Don't get me wrong, hiring a salesperson is necessary for various reasons for early-stage startups. Maybe its to build out a sales org. Maybe its to free up a founder's time. Maybe it's to grow because investors told them to. Regardless, we wanted to hire a full-time salesperson to improve on the sales process I set up. To be fair, I was doing alright at the time.

So, when we got the $100,000 in our account, we budgeted a salary to go to a full-time sales hire. Once we had the money, we hired him almost immediately. Do you know how much a $50,000 salary is? You know, when you have six figures in your account, it can feel like you're invincible. Like it will never drain. This is really bad to think like this. Here are some of the larger purchases we spent money on once it hit our account.
Salaries
We paid our full-time salesperson $50,000/year and we paid ourselves (the founders) $55,000/year. Those are big numbers, so let's make it a little more real. Take those salaries, and you can see we spent $16,000 in March on three people. Literally 15% of the investment went right to salaries in a month. This is an argument to wait as long as you can to hire in house, as it gets expensive.
Airbnb
We decided to stay in SF for the program, so we rented an Airbnb. The one we got was $4,000/mo. It was nice-ish, but if we were going to call the Airbnb an office for 3 months, we wanted it to be nice enough to work in. So we put out $12,000 on Airbnb for the 3 months.
LinkedIn Marketing
We felt the pressure to grow as quickly as we can, so the moment the money hit our account, we put $4,500 of it into growth with a LinkedIn marketing agency. We didn't evaluate what we needed to see to get an ROI. We didn't think through how much $4,500 would be if we didn't have the $100,000. The fact was that we had it and we wanted to grow. So we spent it.
Legal
We thought we needed a lawyer during this time, so we used Justin Kan's new service, Atrium. It cost us $2,000 a month to have peace of mind that our legal needs were covered. We didn't fully understand that we were spending $2,000 on something we sure as hell weren't getting $2,000/mo out of.
Contractors (Writers, Editors, Strategists)
PubLoft ran on contract writers, editors, and strategists, so we knew putting out thousands of dollars is the name of the game. Little did we know, we should have been making sure that we were paying the contractors in line with our revenue. Meaning. if we were making 25k that month, we should obviously be paying out less than that. If we want 50% profit, it will be ideal to payout 12k to contractors. Unfortunately, we weren't tracking COGS and profit per customer. We were just paying out the same rate we were paying out from day one.
To give you an idea of how fucked this was, we made $26,000 in March. We spent $24,000 on contractors in March. This means before all software and salaries, we were already almost burning money. We didn't realize this at the time so we couldn't catch it like we did later.
We're spending it all away and we don't even realize it yet
So it's March 2019 and we don't know anything is severely wrong with the numbers. We're shelling out $16,000 on salaries, $4,000 on on Airbnb, $24,000 on contractors, $2,000 on legal. And in March, we made $26,000 total. Going back into the accounting reports, we burned $26,000 in March. Meaning, we made $26,000 but we spent $52,000 in one fucking month. Half the investment was spent in a month!!! It wasn't until a late-night pizza session with Scott Fitsimones (Cofounder of AirGarage) when I realized how royally fucked we were.
I was telling him about our business problems, and he was trying to learn more about our model. After asking enough questions, I helped me realize that we were crashing into the ground at 100 miles per hour and we needed to at least curb burn to give us a chance of surviving the impact. So, we went into wartime mode. After that meeting with Scott, we did a few things immediately:
We cut our salaries in half
No one tells you how much you're supposed to pay yourself when you get funding. We decided on $55,000/yr based on the funding and our revenue. Once we realized how quickly we were burning, we cut them immediately to $40,000, and soon after down to below $30,000. This was a clear place we could cut, as we could have cut down on our own expenses.
We actually created budgets per customer and consolidated writers
We made sure we were making profit off of every single customer we had. This meant heavily cutting back the hours that strategists were spending on clients, as we let them do "as much time as necessary" to get the job done previously. But once we saw how much money were were losing on customers, we had no option to cut more expensive writers. We had one powerhouse named Patty, and she took over most of the writing and strategy for the clients that were remaining. This was a fixed cost, which helps us save merging.
This means that I had to call every writer that was writing for us any tell them there weren't any more gigs coming due to my mistakes. It was hard. It felt like laying them off, but not due to an external circumstance. Due to my own founder error. It was really hard.
Other things we got rid of
We got rid of our $2,000 subscription to Atrium, our law firm

We got rid of our office in Tempe

At the minimum, Jeremy and I were making $20,000 a year in the last few months
A few quick lessons learned in 2019
Not all revenue is equal. If you make $100, but it takes $95 to provide the value, then that could be worse than just charging $15 for a self service tool.

We weren't ready for the $100,000. We really weren't. And we got slammed. But I needed to go through that experience to show me how to run a business.

People's negative sides come out when things are going poorly, not when things are going well. Take caution, i'm talking about myself too.

Letting PubLoft/GigLoft die in that phase of time was what I needed to get to the point we're at today.
These days, we're bringing the company back on the side of our jobs slowly under the brand, GigLoft. We're focused on serving creators and more importantly, we're focused on building it the right way. Now we know 100 decisions not to make, and maybe this will help us in the future with a 2.0 of this venture. As for you, if you're a founder that just got a 100k check from an accelerator, now you know a ton of ways not to spend it.
---
Like this content? Want to support me as a creator? Subscribe to Forward Thinking for $10/mo and get access to exclusive content like the following:
25 Startups In The S20 Batch of Y Combinator - A sneak peak at the current batch of YC companies before demo day
Making the Mental Leap to Raise Capital - How to prep to raise a seed round if you're an outsider?
How I would Stand Out As a Young VC - Tips I gave a friends asking for tips how to stand out as a young VC.
There's more where that came from! You can subscribe right here: