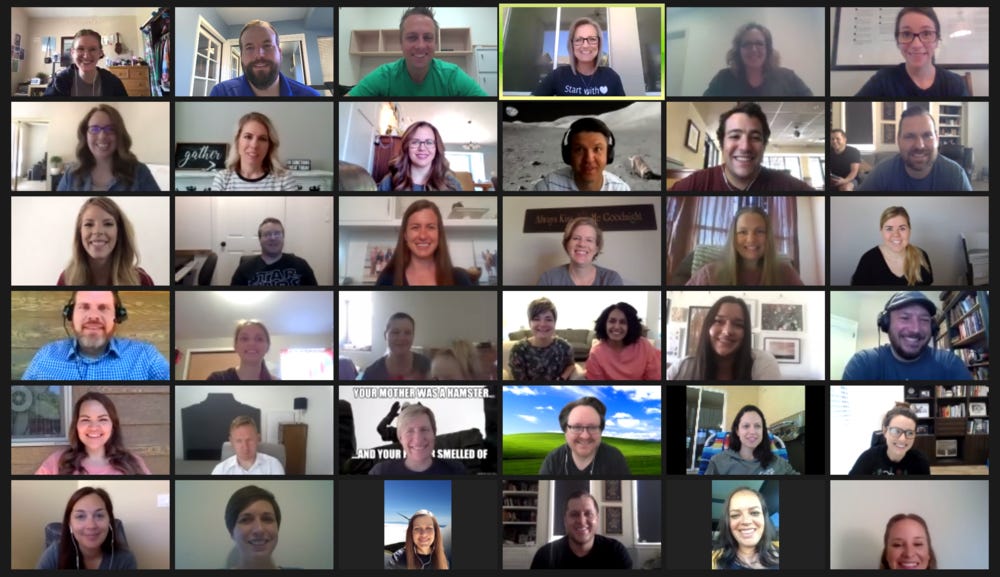 After an incredible run at Prenda, I have recently decided to go off on my own and do my own thing. Before I tell you about that, I want to express some gratitude to the team at Prenda, starting Kelly Smith, our CEO.
Thank you Kelly
Kelly is a unicorn CEO. He has the ability to simultaneously stay as humble as necessary, while managing an extremely quickly growing company. The last year at Prenda has been incredible, yet very turbulent, and Kelly still figures out a way every week at the all hands to make us all laugh (in a good way). When COVID hit, Kelly made some product decisions that went against common business sense, purely to help those in need of education around the world. No one knew if it was the right choice, but we all trusted Kelly's gut, and we followed the leader that he is.
Kelly has also been a personal mentor to me. As we've talked about, we are similar in many ways. We are founders at heart. We bonded over that, and our short chats in the basement of MCHE about being a founder, seeing markets, managing your inner psychology, are chats I will never forget. Kelly also taught me how to be an objective leader too, letting the data inform decision making. Managing a company growing as fast as Prenda is, during the pandemic which made things 20x more difficult, is a job only Kelly Smith can do.
Part of me was wondering why I wanted to write this so publicly. Why does my whole newsletter need to know how great of a CEO Kelly is? It's because even though he's leading a rocketship, even the most successful CEOs need to be reminded of how great they are, just so they don't forget in midst of chaos in the short term. And for those reading this, you don't know how quickly Prenda is growing, but I imagine within 10 years, everyone will know some version of Kelly I know. You'll see a humble, confident, and empathetic individual, who has a fire in his belly to solve education problems for kids and parens.
Rachelle
You are the whole reason I got a job at Prenda in the first place. You hired me, which we both know was a risk at the time. In the time I was at Prenda, I was given some of the most fun work opportunities in my life. I loved the fact that you let me run with Zapier automation in the early days, and that you gave me the autonomy to pioneer the pre-Enrollment form, which served as a core purpose in the months leading up to actual Fall 2020 enrollment. I remember us absolutely blowing up in March, and we drove up to Flagstaff and set up a "war room", where you let me manage the meeting and play point guard with the whole team. Or how abut the time that I was able to let my camp counselor side shine, when you gave me the responsibility to entertain 30 kids while you told all their parents about Prenda during our tour. You gave me the opportunity to shine in ways that I won't forget. My early days at Prenda were great because of you!
The Rest of The Prenda Team
You all start with heart in a way that inspires me to do the same, even after I leave. You all are the hardest working group of people I've ever met, not to mention the collective intelligence of the team probably equates to that of a small city. Prenda is going far, and I am grateful to have gotten to know you all. Although I'm not operating anymore, know i'm always a DM or email away if you need help hooking up a zap or automation ;)
What's next?
I'm working on something new. I will share more details over the coming weeks, but if you're curious, take a peek here! Stay tuned with more details about my new thing.