Discover more from Words, By Mat Sherman
Writing about my observations on startups, access, and markets. The posts will be inconsistent, but you'll always get my best.
Over 6,000 subscribers
100 Words a Day (37)
Short Term Bounce Back
Short Term Bounce Back
Yesterday really sucked but yesterday night, when I was trying to get Schmooz into a class of 2020 page, their admin told me to create a poll instead to gauge interest. I did that. These are the results.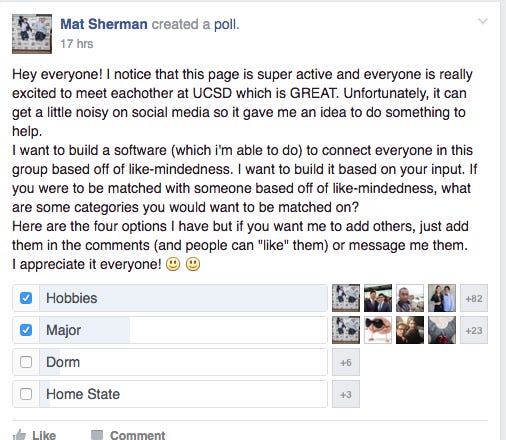 Not too shabby, eh? I'm not getting my hopes up though. I do too much of that and the hopes are usually too high. I think i'm just accepting that until Schmooz finds PMF, we are on a roller coaster without seatbelts…most people die on this coaster. I'm hanging on for dear life because I love this rush more than most things.